We have a fabulous deal to kick-start your spring tan! The brutal cold has made us feel a bit miserable over the last week so we need a Vitamin D boost too!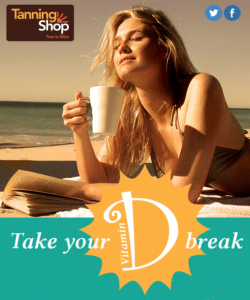 Spring is just around the corner and we have the Easter Bank Holiday this weekend so it is a great time to start building your tan.
The winter season takes its toll on our Vitamin D levels, making us feel tired and miserable, so get into that Springtome feeling and boost your Vitamin D with our UV!
Beginning today, we are offering £££'s Off 1 Hour package deals at selected stores and up to 50% off lotions! This offer is available 12/04/17 to 14/04/17
Call or visit your local store to take advantage of these brilliant discounts!

Terms and Conditions Apply. UV services available to over-18's only. This promotion is available at selected branches of The Tanning Shop and cannot be used in conjunction with any other discount or promotion. Subject to availability.