Vitamin D Deficiency is a global pandemic with the Northern hemisphere being greatly affected. Long Winters, shorter days and working indoors means that we do not expose ourselves to the natural method of metabolising Vitamin D.
Supplements do not act in the same way as UV light. Supplements suppress the immune system instead of stimulating the body's natural processes in the same way that UVb light would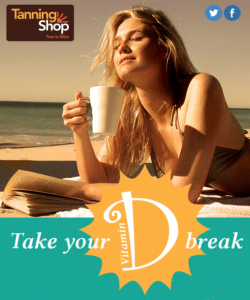 The BMJ has today published an article which states that UVb light is superior to supplements in respect of the metabolism of Vitamin D. This echoes previous research conducted by the Grassroots Health research consortium that identified that people who used indoor tanning regularly were 300% more likely to have optimal levels of Vitamin D than those who did not
The Tanning Shop promotes responsible tanning practices that are suitable for skin type and tanning history. Our registration process asks specific questions in order to identify skin type using the Fitzpatrick Scale, a universally acknowledged method of classifying a persons skin type in relation to their reaction to UV light.
Registration creates a unique client record which is used by our trained Tanning Consultants to assist clients to design a tailored personal tanning plan. The personal tanning plan works in consideration to our carefully selected range of effective yet innovative UV equipment.
Our commitment to customer service excellence and 25 years of tanning expertise enables us to assist our clients to boost their Vitamin D, build a gorgeous golden tan and most importantly, to enjoy a responsible tanning experience in a fantastic environment
Visit your local branch of The Tanning Shop today to discuss your tanning needs. We are always happy to see you!


Terms and Conditions Apply. UV Services available to over-18's only and subject to registration. Exclusions apply

References
http://articles.mercola.com/sites/articles/archive/2008/02/12/why-vitamin-d-supplements-are-not-the-same-as-sunlight.aspx
BMJ 2016;355:i6183
http://medicalxpress.com/news/2016-11-current-evidence-vitamin-d-supplements.html
http://grassrootshealth.net/media/download/UVB_Exposure_and_Supplements_Tanning.pdf
http://www.arpansa.gov.au/pubs/RadiationProtection/FitzpatrickSkinType.pdf