Take your tanning experience to the next level at Milton Keynes Tanning Shop. Luxury and responsible UV and spray tanning on your doorstep.
The Tanning Shops' philosophy is to provide responsible tanning solutions with state-of-the-art equipment and professionally trained tanning consultants.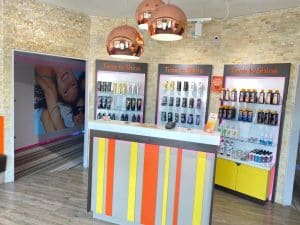 Lets get Tanning 
The Tanning Shop is the only tanning salon in Milton Keynes that is home to a UV sensor-controlled bed; Sun Angel. This lay down bed takes 2 readings of your skin before your session and will accordingly change the lamps specifically to your skin type for a 20-minute fixed session. The ultimate tanning experience.  
The Sun Angel is accompanied by a variety of other UV stand up and lay down tanning beds. Stand up bed; Alisun V600. Lay down beds; Megasun 7900 & 8000 & Matrix. That's a lot of beds to choose from, right? Let's see what these beds are all about.
Alisun V600 a vertical stand-up tanning booth that is designed to provide comfort and an even all-over tan. This bed has facial and shoulder tanners to deliver the best tanning experience and results.
Megasun 7900 is a lay down tanning bed that has been designed with maximum comfort in mind and fitted with specialist p2 pigment tubes which are specialist tubes that help stimulate production of vitamin D3. The tanning bed is user friendly; you can choose between 3 tanning settings which will be determined by your skin type and adjust ventilation.
Megasun 8000, is a very similar lay down bed with upgraded features. This bed has a touch screen instead of pre-select buttons. Not only does this Megasun have touch displays it also allows you to connect your phone via Bluetooth to allow you to listen to your own music.
The Matrix lay down tanning bed has 28 high pressure UVA lamps which are arranged to surround you, the carefully placed reflectors create an ideal environment to encourage an all over tan. This bed comes with adjustable ventilation to ensure maximum comfort during your tanning session
UV Tanning not for you? Milton Keynes also has spray facilities which is an automated spray booth that delivers an option of 3 different shades of spray tan; Light, Medium and Dark. Here you can find out the process of an automated spray tanning booth.
There's a tan for everyone at Milton Keynes Tanning Shop, everything looks better with a tan!
Find the location, packages, prices and opening times here.