Bluevision Spectra
The new Ergoline Bluevision Spectra is the first ever model to combine the latest UV technology with the power of 120 Activating Light LEDs (blue light)Blue light has an activating effect on the skin as it prepares the skin for tanning. The activating effect initiates a faster tanning reaction and deeper tanning results. The world's first LED facial technology is gentler on the skin than high pressure facial tanners without compromising on tanning performance. The reduced infrared minimises skin ageing. New UV LED Shoulder Tan guarantees excellent tanning results in the shoulder area. The Personal Sunstyle control panel enables simple and straightforward operation of the sunbed.
A large 18cm interior touch control screen is also available so if you forgot to select any functions on the exterior Personal Sunstyle control panel, no problem you can do so via the Interior touch control screen. The UV intensity for the face and body can be individually adjusted at any point during the tanning session. Because your skin deserves the best! The 3-zone ventilation with intelligent automatic ventilation and Climatronic Plus ensures the body is cooled by an even flow of air. The Aqua Fresh system sprays a fine mist while tanning to keep you cool and refreshed and can be adjusted separately for body and face.
This perfect interaction of the light spectra produces intensive, directly visible tanning results with skin care.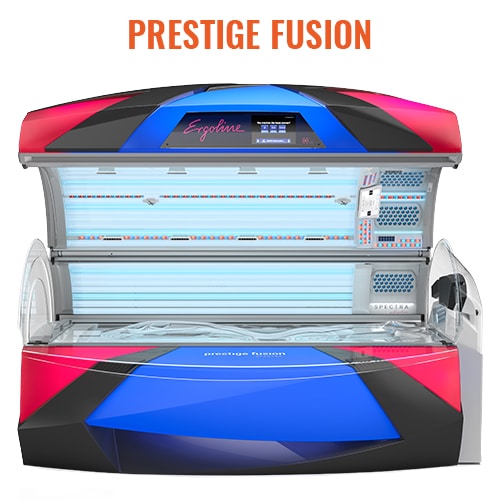 Prestige Fusion
The Prestige Fusion is a real innovation in tanning! It's new Fusion Technology, combines Activating Light LEDs and Radiance LEDs for the first time. Blue Activating Light LEDs prepare the skin for tanning and improve the directly visible tanning results. Red Radiance LEDs care for the skin while tanning and intensify the tan even more. With the interaction of the two coordinated light spectra, Prestige Fusion enables a particularly intensive and beautiful tan.
The high-performance Red Radiance LEDs guarantee effective skin care on the face, décolleté, shoulders and body. At the same time, the red LEDs stimulate oxygen production in the skin, which supports the tanning process. For an all-round radiant complexion and velvety soft skin. The blue Activating Light LEDs signals the presence of sunlight to the cells, activate the skin and improve the directly visible tan.
This perfect interaction of the light spectra produces intensive, directly visible tanning results with skin care.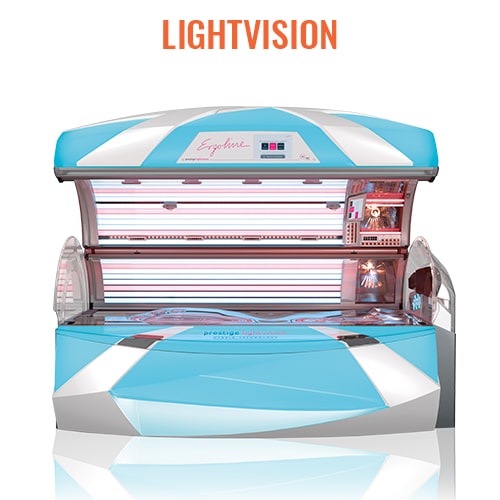 Ergoline Lightvision
The new Ergoline Lightvision is exclusively fitted with the latest features including two large touch displays, Surround Cooling Plus, Cinematic Sound System, Beauty Light LED Complete, Hybrid Shoulder Tan including UV and Beauty Light LEDs as well as Remote Access – are available exclusively with the new Lightvision.
Incorporating the latest technologies throughout and with regular software updates to ensure optimum performance, take your tan to a new level with the Lightvision.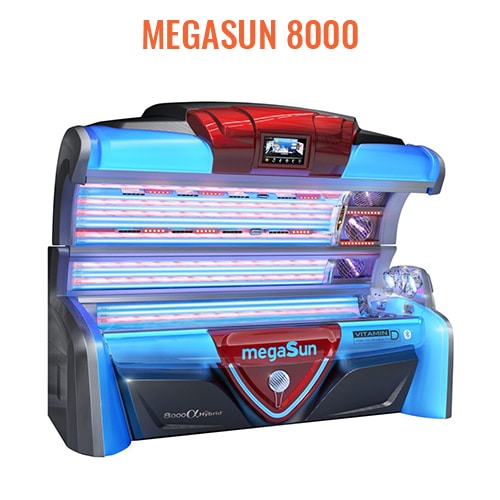 Megasun 8000
Touch-screen technology is everywhere, and now, even operating your sunbed is easier!
Every outstanding feature of the 8000 alpha HybridST can be controlled with a simple touch, just as easily as your smartphone or tablet.
The strength of the new 8000 alpha HybridST is in the cutting-edge technology. From the innovative "intellisun" system, to intelligent pre-selection controls, the KBL8000 is designed to provide a complete tanning solution for even the most experienced of tanners.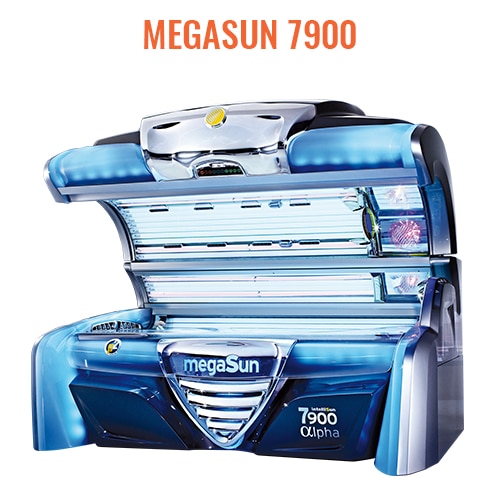 Megasun 7900
The KBL 7900 lay-down tanning unit is not only designed with maximum comfort in mind, it is also equipped with P2 pigment tubes. These specialist tubes are designed and proven to work with conventional UV technology to stimulate the production of vitamin D3, which is essential for good health.
The user-friendly pre-selected display enables various comfort adjustments to be made easily and conveniently before tanning, while the optional "intelliSun" intelligent tanning system provides three different tanning choices; Basic, Mediterranean, and Caribbean.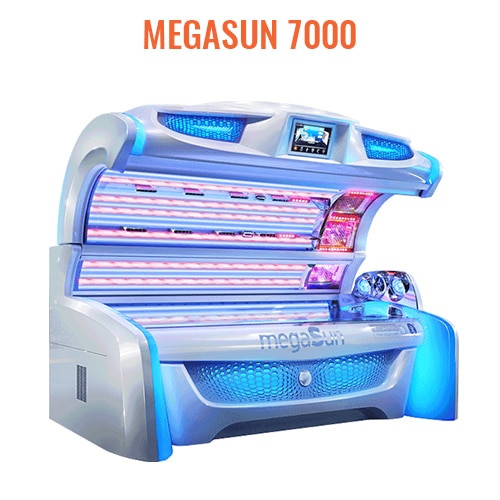 Megasun 7000
The powerhouse of the new 7000 series. Equipped with pureSun and SmartSunlight tubes for optimal tan, skincare, and particularly beautiful skin.
Intelligent control system (touch screen for ease of use)
Smart light for the face and decollete
Smartsunlight lamps
Shoulder tanner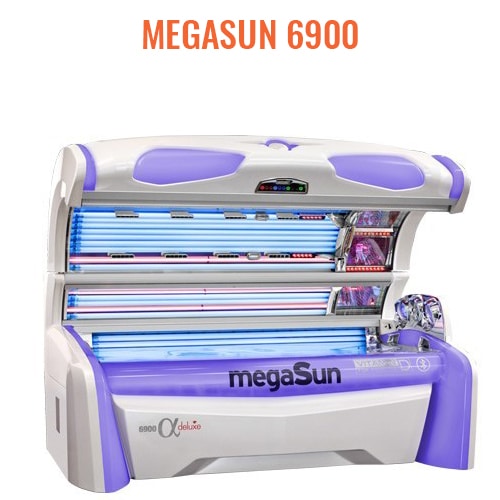 Megasun 6900
The KBL Megasun 6900 is the most intelligent sunbed of its kind. An elegant and ergonomic design is combined with patented "Intellisun" technology and a simple user interface to provide an absolutely invigorating and rejuvenating tanning experience.
The bed is equipped with 6 specialist p2 tubes which are designed and proven to work with conventional UV technology, to stimulate the production of Vitamin D3 which is essential for good health. Along with 49 high-end LED's that boost collagen to renew skins elasticity and tone while X-tra Tan shoulder tanners ensure that your tan is complete.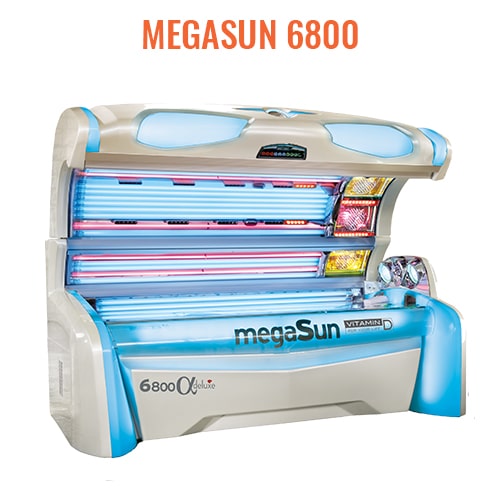 Megasun 6800
The KBL Megasun 6800 lay-down sunbed has a distinctive design that is committed to facial and shoulder tanners to promote complete tan development. Fitted with a unique combination of blue light and red collagen light tones aims to revitalize your skin.
The bed is equipped with air conditioning, aroma, aqua cool and connect via Bluetooth to enjoy your own music. All features create a user-friendly experience and enhance a comfortable experience.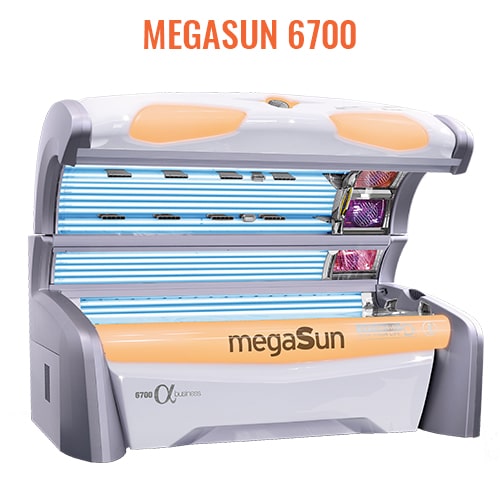 Megasun 6700
The Megsun6700 Alpha lay-down sunbed has the ultimate combination of technology and style that creates the perfect tanning experience. It's fitted with optional Aroma, Aquacool and Air conditioning. The bed is equipped with Bluetooth allowing customers to relax to their own music.
The generous sized sunbed is built with 26 lamps in the canopy and 20 lamps in the base including, 4 dedicated face tanners allowing a spacious easy-use tanning experience.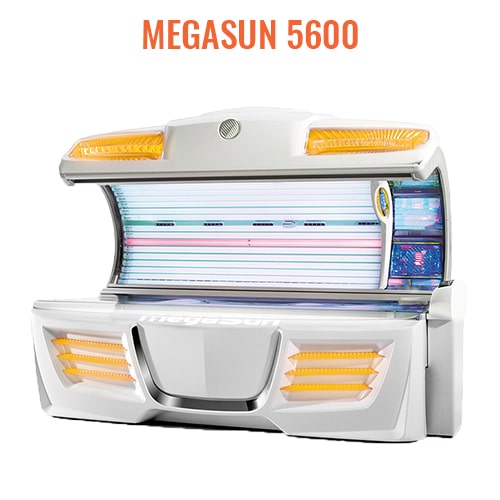 Megasun 5600
The Megasun 5600 is a high-power sunbed providing an easy-to-use customer experience with the intelligent technology controls installed. The dynamic bed is fitted with LED borders including colourMotion looking good in any studio. Features include, Air Conditioning, Aqua Cool, Aroma and a Facial System.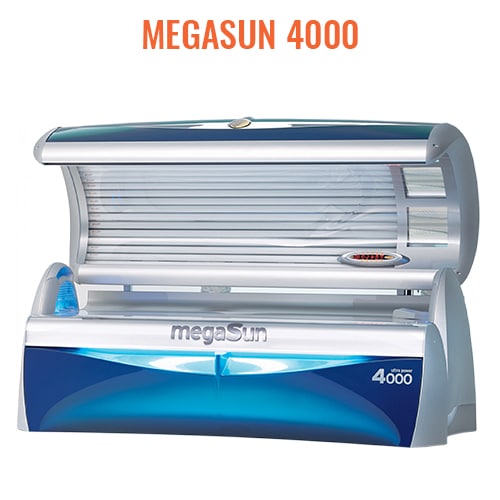 Megasun 4000
The Megasun4000 is fitted with high power facial tanners offering an exceptional tanning experience. Body fans installed provide high quality ventilation that ensures comfortable tanning.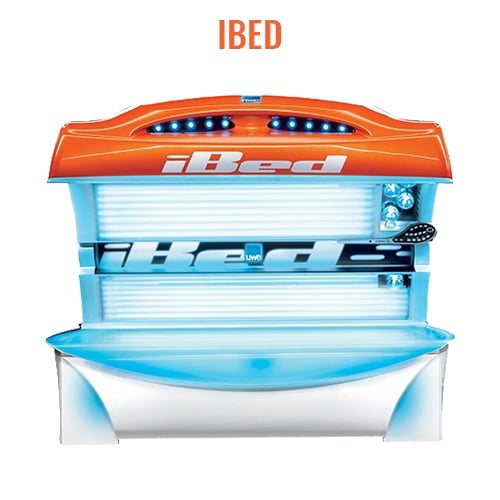 iBed
Experience exceptional comfort and a complete, even tan with the iBed's exclusive iSwing technology. The rotation of the 250 watt powerspots ensures that all areas of the body are tanned equally while heat is distributed evenly.
The tanning session is further enhanced with client-controlled aroma, breeze, and iSound as the specialist iGlass diffuses UV rays to create a bed of light and encourage an even, all-over tan.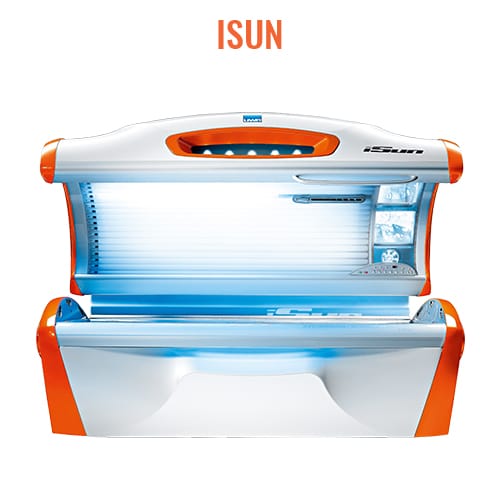 iSun
The ISun lay-down offers high-pressure lamp technology including, shoulder tanners that provide an even tan working alongside Icool for comfort tanning and ISound with Bluetooth connect giving the ultimate tanning experience.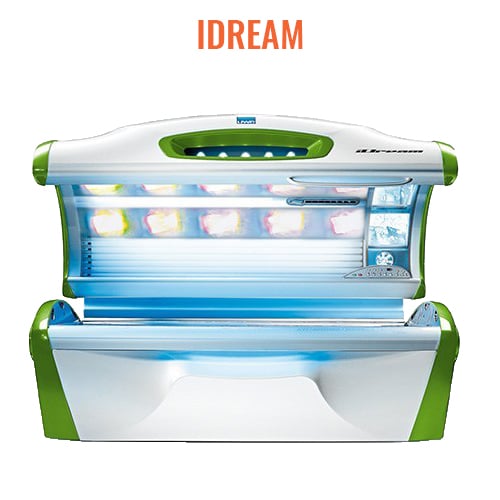 iDream
The iDream is designed for experienced tanners who demand more from their UV sessions. Powerful, high-pressure lamps combined with the innovative iGlass base provide comfort and exceptional light diffusion while the iPower face and Powerspot shoulder tanners ensure that the even colour develops from head to toe.
Optional air-conditioning is provided as standard, keeping you cool while the XTT iPower Xtreme tanning technology gets to work on developing a deep, dark tan.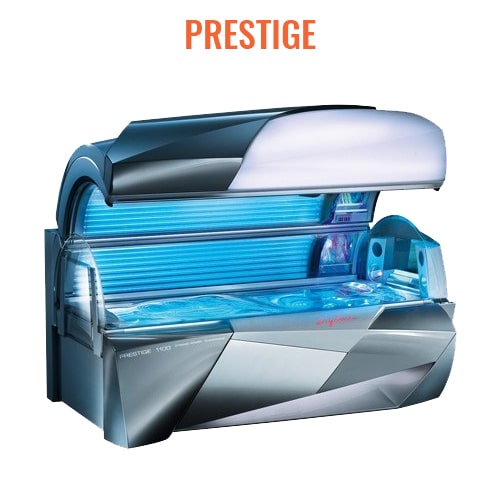 Prestige
Relax, refresh and rejuvenate with the Ergoline Prestige. Enjoy optimal performance and ease of use as you build your luscious tan.
Enclose yourself in the refreshing "Climatronic Plus" ambiance of the Ergoline Prestige while luxuriating in the calming and comfortable environment created by the Aqua Fresh and Aroma functions. Prepare to relax to your own music and enjoy the 3D sound system.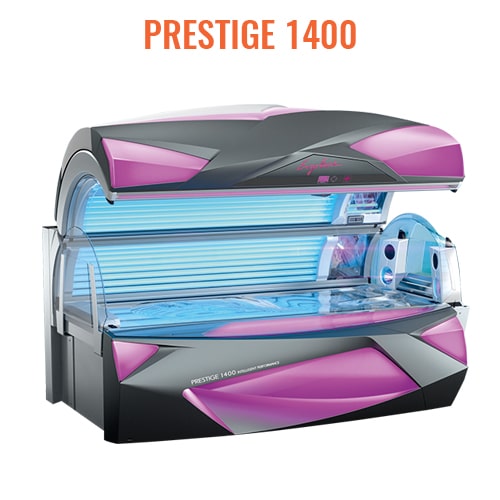 Prestige 1400
The Ergoline Prestige 1400 features intelligent ultra-performance tanning tubes to surround the body, face, and shoulders. This bed is fully air-conditioned for the perfect tanning experience.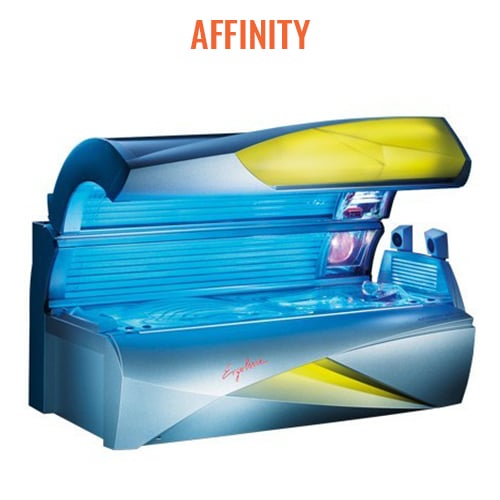 Ergoline Affinity
The large-format "Body Shape" base acrylic of the Ergoline Affinity ensures a relaxing tanning experience. The clear control layout and intuitive symbols ensure true ease of operation. The Climatronic, Aqua Fresh, and Aroma are designed to keep you cool, whatever the session length.
Surround yourself with the 3D-Sound system that is boosted by a powerful Subwoofer for an exceptional sound experience.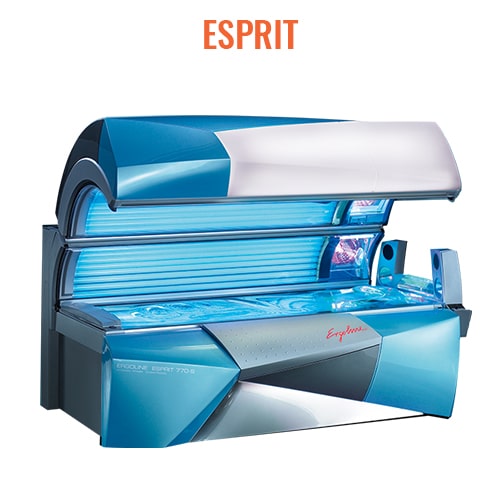 Esprit
The Ergoline Esprit is fitted with 52 powerful full-body tubes, 4 face tanners, and 2 shoulder tanners for a guaranteed fast and long-lasting tan.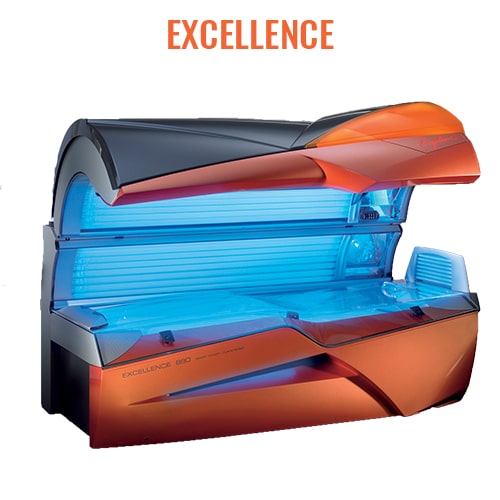 Ergoline Excellence
The Ergoline Excellence is fitted out with 51 body lamps as well as specialised face, neck, and shoulder lamps ensuring an outstanding tan. There is 3D studio sound and adjustable intensity to ensure maximum comfort.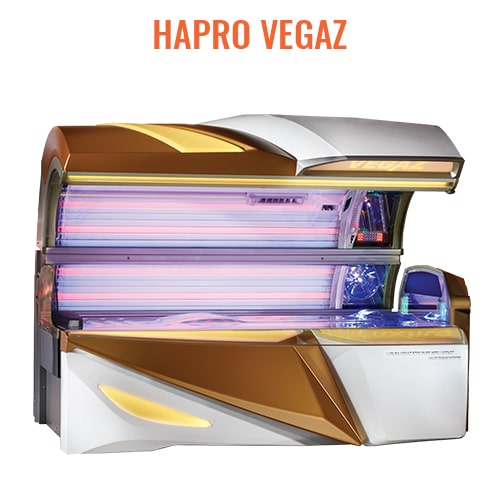 Hapro Vegaz
The Hapro Vegaz merges the Maxlight Premium blue and red lamps creating a perfect tan taking into consideration intense tanning and skincare. The tanning bed is fitted with a smart cooling system, shoulder tanners to provide a complete tan, Bluetooth, and climate control, tailoring each tanning experience.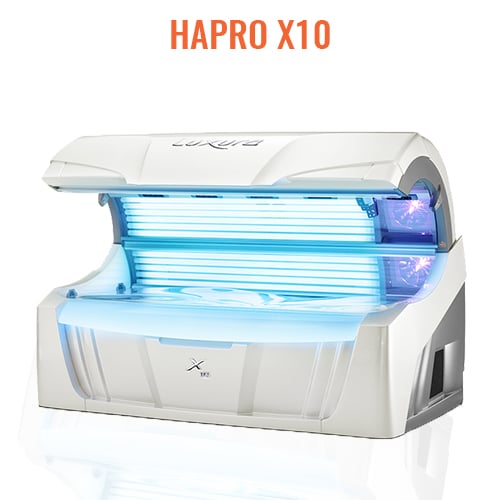 Hapro Luxura X10
Luxura X10 is the most sophisticated product within the Luxura range of sunbeds. It's combination of cool design and powerful efficiency offers an extraordinary tanning experience.
Unique design, enlightened trendy graphics and Ambient FlowLight
Clear icons for all the settings
Intuitive navigation through smart touch control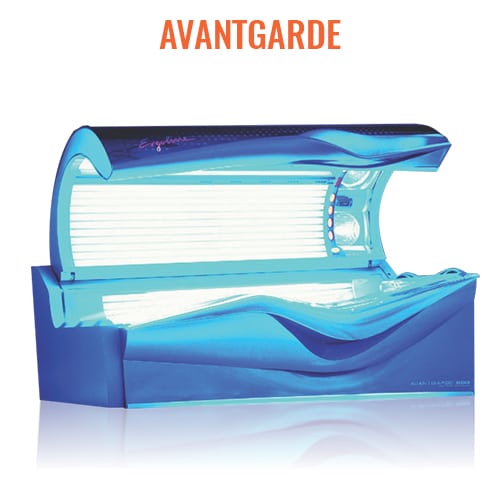 Ergoline Avantgarde
This Ergoline Avantgarde is built with the quirky body wave acrylic that allows extra comfort tanning accompanying the intelligent ventilation creating the most superior tanning experience. Equipped with shoulder and facial tanners providing an even bronzed tan.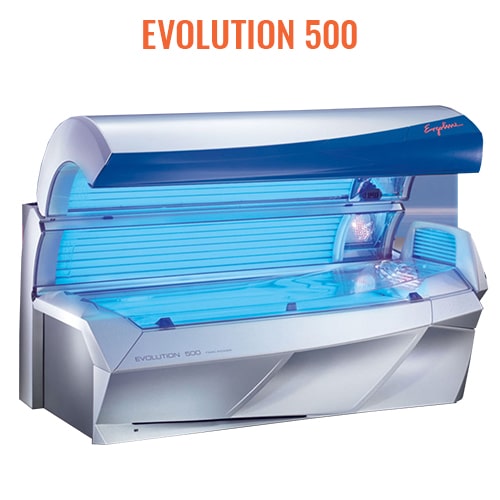 Ergoline Evolution 500
The Ergoline Evolution 500 is fitted with a control panel that is super easy to navigate allowing all features available easy to manage. Optional features include Aroma Therapy, Aqua Spray mist, air condition, inbuilt music system, and voice guide.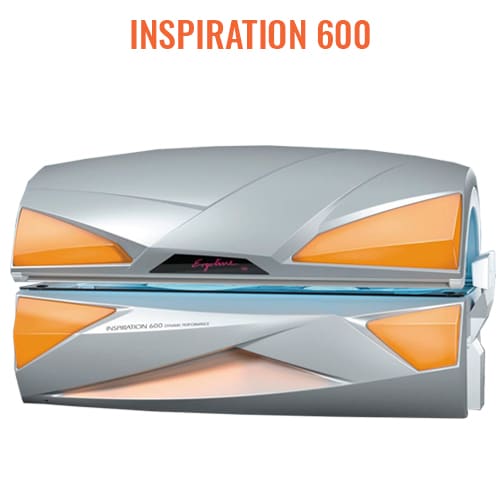 Ergoline Inspiration 600
This Ergoline Inspiration is designed with comfort in mind, the comfort cooling system allows the whole body to be disseminated with cool air during the tanning session. The bed is equipped with 42 performance UV lamps and 4 facial tanners to deliver the perfect tan.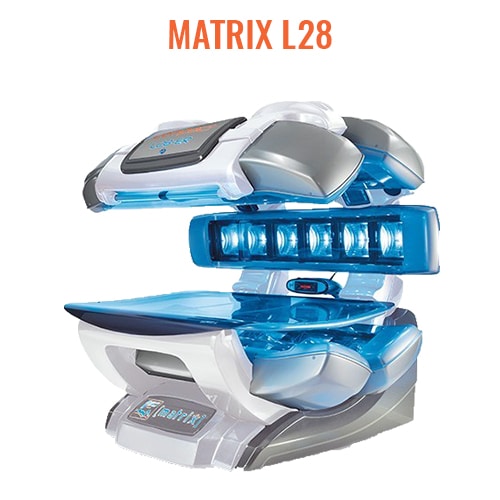 Matrix L28
The Matrix L28 is one of the new generation of UV Sunbeds that employs both innovation and proven technology to enable clients to achieve an all-over tan in comfort. The use of carefully positioned reflectors creates an ideal environment to encourage an all over tan and optimise the tanning potential of the session.
The matrix has 28 high-pressure UVA lamps which are arranged to surround the client. The L28 design is innovative in that the user does not feel enclosed whilst retaining tanning efficiency. With adjustable ventilation, stereo headphones and a focus on comfort.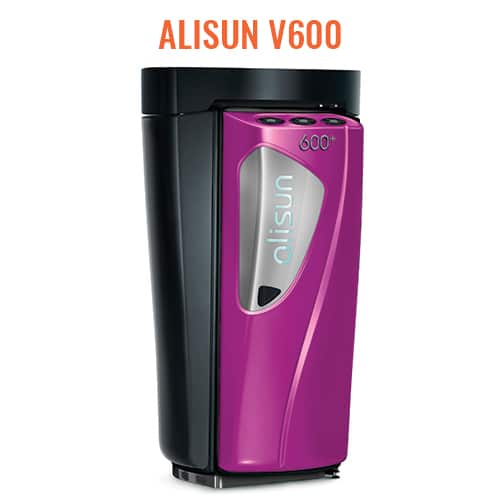 Alisun V600
The Alisun V600 is a perfect choice if convenient tanning is your preferred option. A proven vertical sunbed that has become a firm favorite at The Tanning Shop!
Designed to provide comfort for the duration of your session, the V600 ensures an even, all-over tan. 48 body lamps, 3 face tanners, and two dedicated shoulder tanners combine to deliver an overwhelming tanning experience.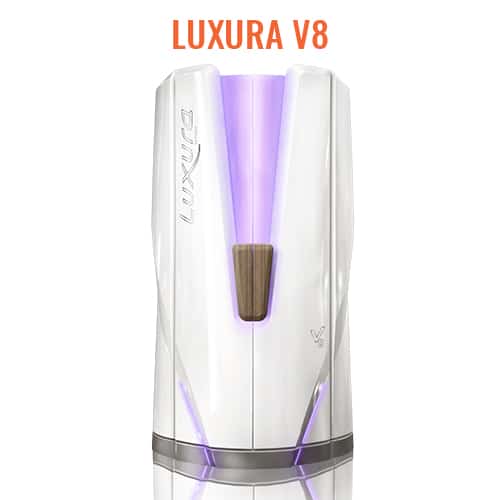 Hapro Luxura V8
Discover the state-of-the-art Ambient FlowLight display including smart touch control and see how easy it is to manage your tanning preferences.
Unique design, enlightened trendy graphics, and Ambient FlowLight
Clear icons for all settings
Intuitive navigation through smart touch control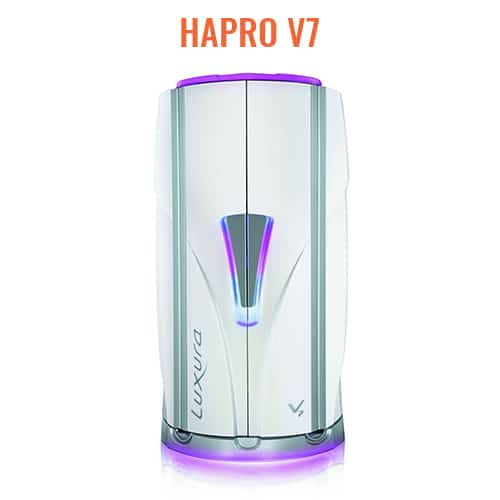 Hapro Luxura V7
The Hapro Luxura V7 vertical tanning bed is kitted out with superior cooling fan technology in a spacious tanning environment a state-of-the-art music system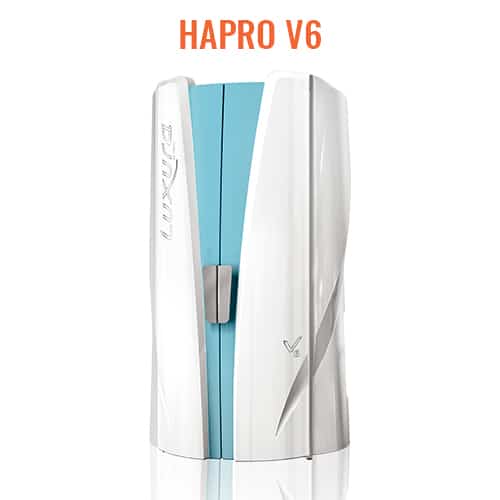 Hapro Luxura V6
This vertical bed has an ambient FlowLight panel, smart touch control, and illuminated graphic that provides a user-friendly tanning experience tailored to individual tanning preferences. Features include Bluetooth audio system, Qsens that releases a cooling spray throughout tanning sessions, and Xsens that releases fragrances via the ventilation system.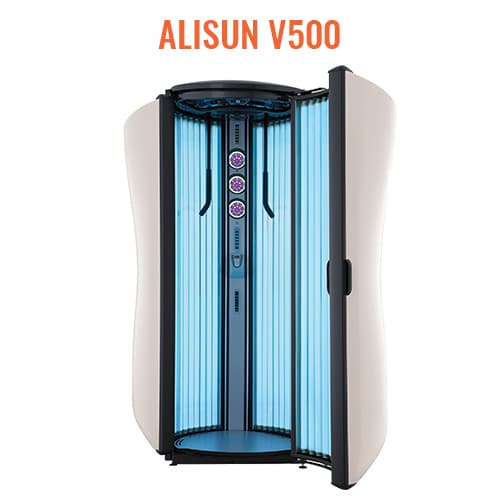 Alisun V500
State-of-the-art technology is used to create the best tanning experience, providing Aquabreeze, AcSent Aroma, and full-body air conditioning creating a cool tanning environment.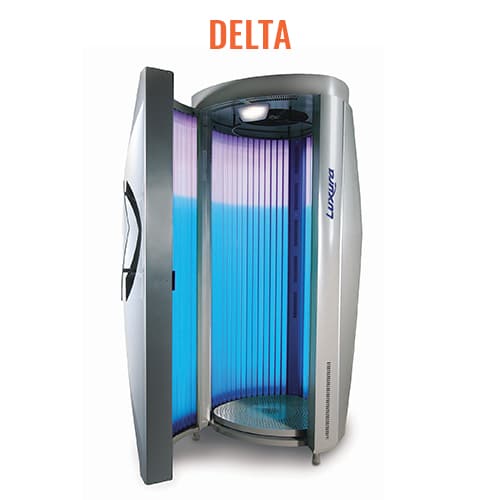 Hapro Delta
This vertical tanning bed is built with intensive shoulder tanners to provide a complete tan and a cooling system for comfort tanning.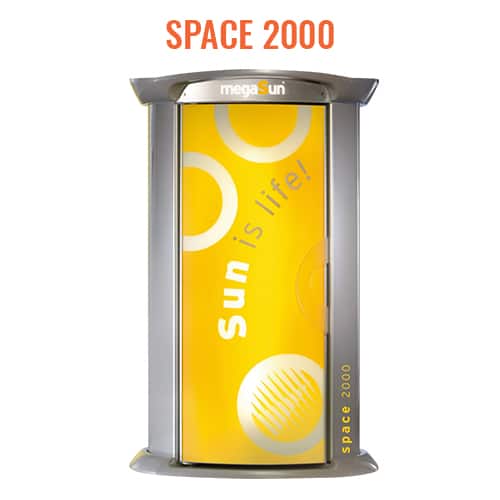 Megasun Space 2000
The Megasun Space 2000 is an elegant, comfortable and fascinating sunbed equipped with easy navigation to control all features on the tanning bed. These features include Body fans, Aroma, Mega Voice, Aqua Cool, and Bluetooth.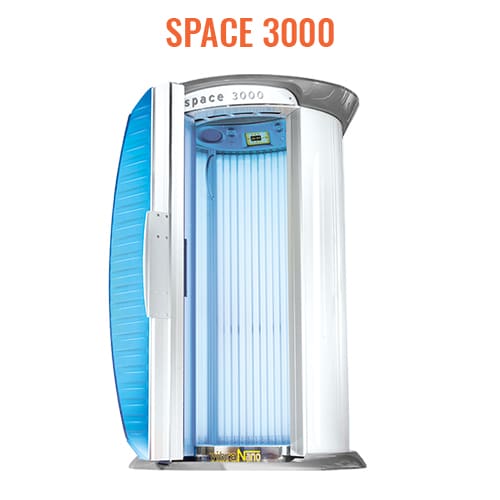 Megasun Space 3000
Spacious, powerful, and convenient, Space 3000 is the perfect choice for the tanner on the go!
Bluetooth Audio System
Volume control
Music vibrations – feel the sound!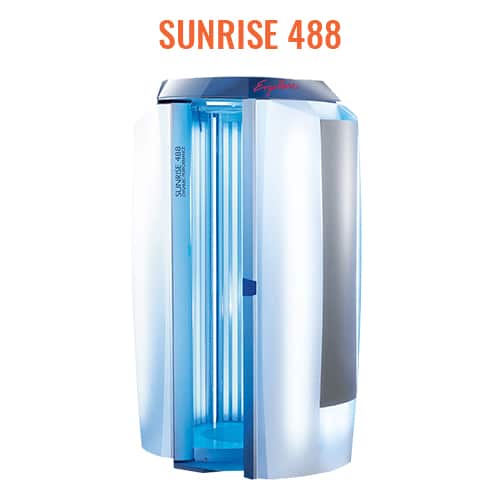 Sunrise 488
The Ergoline Sunrise 488 features 48 dynamic lamps to ensure a consistent tanning performance throughout the session.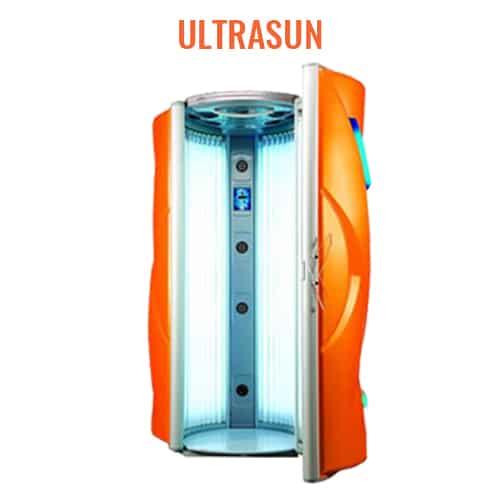 Ultrasun
This Ultrasun stand-up bed has neck and shoulder tanners to avoid uneven tan marks, the 48 powerful lamps offer the best vertical tanning accompanied with air conditioning to provide a comfortable tanning experience.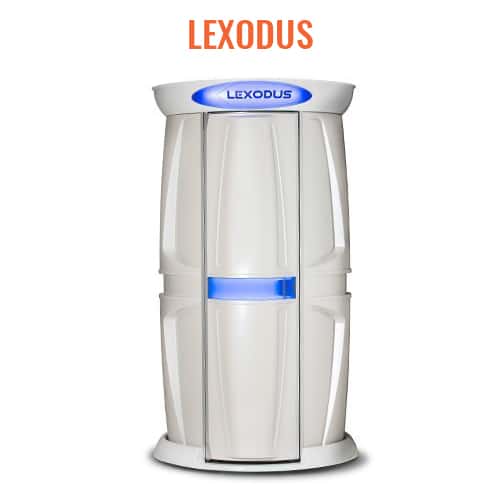 Lexodus
Simplicity and style combine to provide an efficient yet exceptionally effective tanning session.
The Lexodus stand-up sunbed has a powerful cooling system to complement the unique body-shape interior and high-pressure facial lamps. A great choice for effective tanning on the go!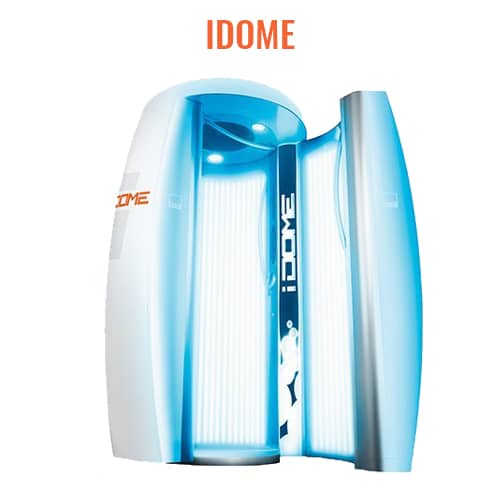 UWE iDome
The world today is fast-paced and constantly moving. It is becoming more and more difficult to relax when there are constant demands on our time. Why not enjoy the convenience and comfort of vertical tanning with the iDome at The Tanning Shop!
Step in and enjoy an all-over tanning experience as the iDome employs exclusive iSwing technology to equally tan all areas of the body with the slowly rotating 250-watt powerspots.
Spray Tan Booths & Sun Angel (sensor controlled tanning)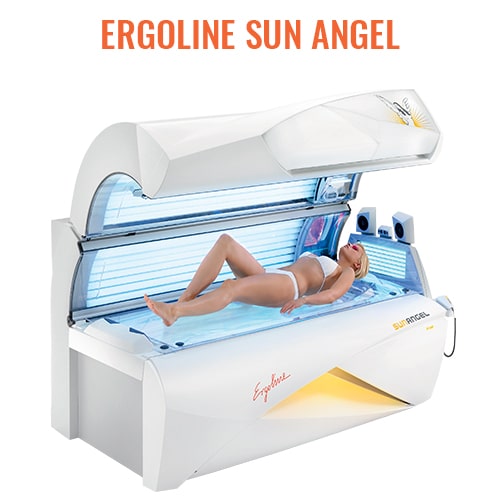 About the sun angel
The Ergoline Sun Angel stimulates the production of Vitamin D by controlling the interaction between UVA & UVB light, harnessing the components that are most effective in promoting the tanning process.
Designed to provide an optimal tanning environment while significantly reducing the risk of over-exposure, the Sun Angel is in a class of its own.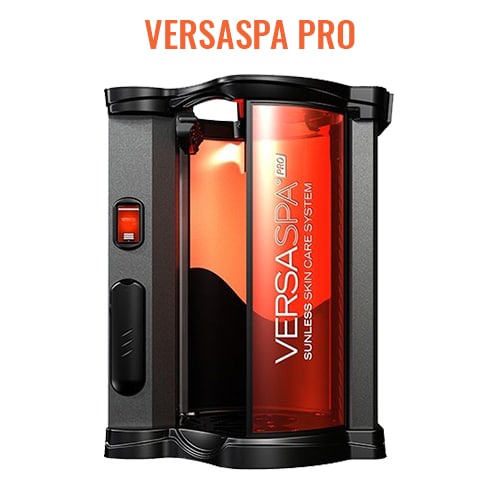 versaspa pro
The VersaSpa Pro is designed to deliver. This exceptional spray tanning booth is packed with groundbreaking innovations in order to deliver a truly professional spray tanning experience. Choose between four gorgeous shades and customise your session to achieve the result you desire.
Enjoy the process and relax with a wide-open and heated interior design. The VersaSpa Pro is more than just a spray tan, it hydrates the skin and smoothes fine lines as your colour builds, all in one delightful session!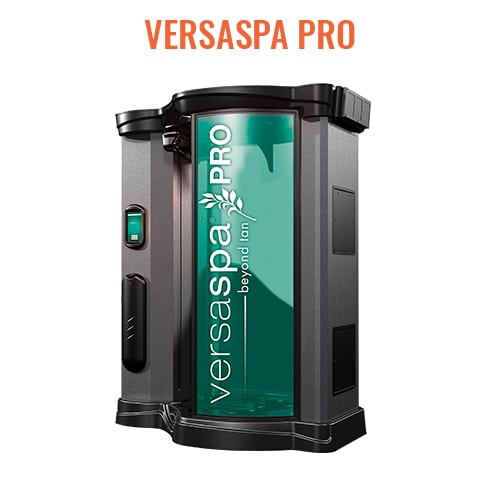 versaspa pro
The VersaSpa Pro is designed to deliver. This exceptional spray tanning booth is packed with groundbreaking innovations in order to deliver a truly professional spray tanning experience. Choose between four gorgeous shades and customise your session to achieve the result you desire.
Enjoy the process and relax with a wide-open and heated interior design. The VersaSpa Pro is more than just a spray tan, it hydrates the skin and smoothes fine lines as your colour builds, all in one delightful session!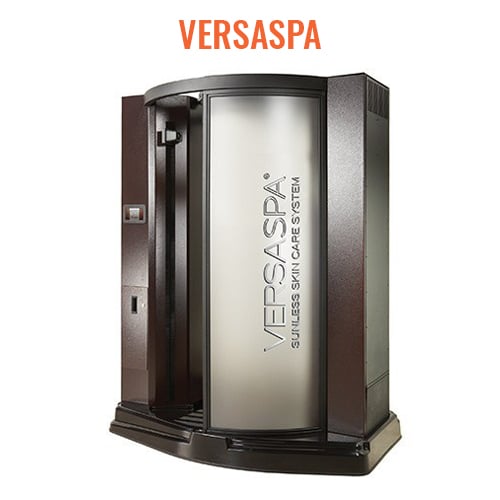 versaspa
Designed to build a natural, vibrant, long-lasting colour, the Versaspa automated spray tanning booth combines multiple groundbreaking innovations to enhance the client experience. Includes a wide-open interior design, an EZ-2Breath purification system, Comfort-Dry technology, and an intelliSENSE control system.
Bronze, smooth and hydrate your skin in just one fully customisable session. Choose your shade, choose your treatment and enjoy your spray tan!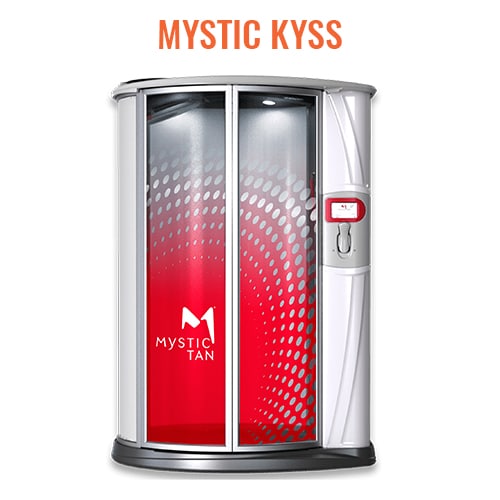 mystic kyss
Mystic Kyss, a heated spray tanning system, is designed to consistently deliver a flawless, customisable, and natural-looking tan. Every step of the tanner's journey from solution selection to Mystic Myxers to the state-of-the-art booth environment is easy, fun, and focused on delivering a great tan!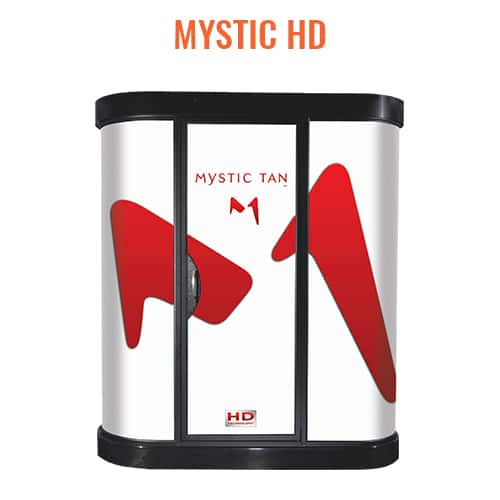 Mystic HD
Mystic HD spray tan provides a natural and even looking tan almost instantly! This fantastic automated booth guides you through the entire session and our friendly store staff are fully trained to assist you from shade choice to preparation and to provide guidance about the session and aftercare.
Mystic HD, a great way to build a gorgeous-looking tan in one day!