Looking for that ultimate tan? The secret to the best tan is LOTION. You wouldn't wash your hair without shampoo, so why are you tanning without a lotion?
Lotions can nourish, rejuvenate & protect your skin.
It's the same for using a tanning lotion whilst using UV beds.
Using a sunbed cream during your tanning session has many benefits;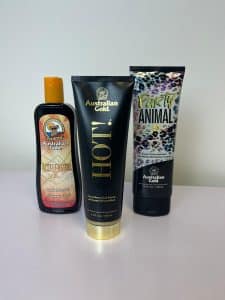 Stimulates Melanin Production                                                                                                                                                                                                                                                The tanning process is faster when you apply a lotion to your skin. The lotion ingredients help stimulate melanin production in your skin that brings out your natural colour when you are exposed to sun or UV rays. The more melanin produced the darker your tan will become
Increases Tanning Results by 60%                                                                                                                                                                                                                                        UV rays reflect off dry skin which makes it difficult for you to tan. Using a lotion moisturises your skin increasing tanning results by 60%. Dry skin reflects UV rays making the tanning process longer if you do not have hydrated skin.
Healthy glowing skin                                                                                                                                                                                                                                                                    A lotion will help increase skin hydration which will prevent a dry and dull complexion. Nourishing your skin with a cream during your tanning session will help result in glowing tanned skin post tanning session.
Whether you prefer to buy a sachet or a bottle, if you are on a tight budget or wish to treat yourself to a luxury sunbed cream, we have a product to suit you.
Why not drop in to your local store today and ask our trained tanning consultants about our wide range of products today!
Happy Tanning!