The Tanning Shop Colindale located North West of London in the Northern Quarter, Colindale near Edgeware is home to luxury & responsible tanning.
The store is equipped with a variety of state-of-the-art tanning equipment including stand up and lay down sunbeds.
Let's talk about their UV Tanning equipment!  
Level up your tanning session with a Lightvision Premium sunbed at Colindale. This sunbed has two large touch displays, surround cooling plus, cinematic sound system, beauty light LEDs, Hybrid shoulder tanners, aqua cooling misting system and 3 tanning settings to choose from determined by your skin type.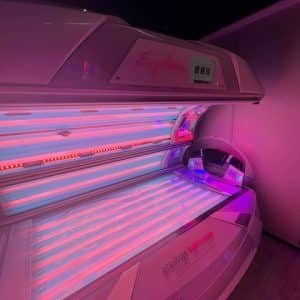 Lightvision is a bed you can you use throughout your whole tanning journey, start to finish! The 3 tanning settings; Sensitive, Medium & Intense allows you to choose the intensity of your tanning session. Each session you will have the choice of which setting to use, as your tan progresses you can change the tanning setting to achieve deeper darker tanning results. You can gradually increase minutes as your skin gets used to the UV rays – ask one of our tanning consultants for their recommendation in-store! Tailor your tanning to you!
The Megasun 7000 lay down sunbed can also be found at our Colindale tanning salon. This tanning bed is equipped with puresun and smart sunlight tubes for optimal tanning results and skincare. Take a mini relaxing holiday on this bed to achieve an all over tan with the facial and shoulder tanners.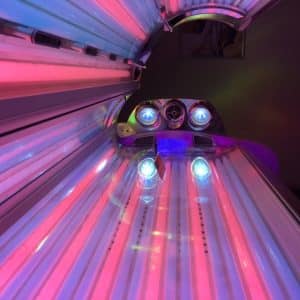 Lay down tanning not for you? Colindale has Hapro V6 Stand up tanning beds, a unique design with an ambient flow light with clear icons for all settings that can be adjusted during your tanning session including Bluetooth connectivity so you can enjoy your tanning experience!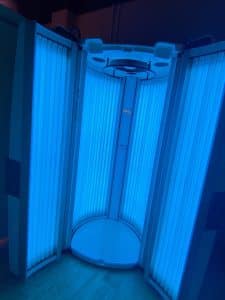 Did you know you should always use a lotion during your tanning session? Dry skin reflects UV rays prolonging your tanning journey. If you use a UV specific tanning lotion you will enhance tanning results up to 50%!
Speak to Alexis and her team in-store who can advise the best tanning lotion determined by your skin type and tanning preferences.
You've had the low down about the equipment and lotions, what are you waiting for?