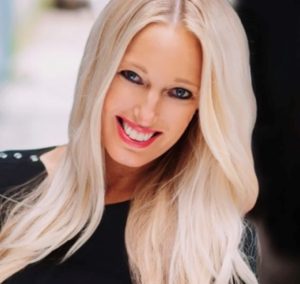 We are delighted to announce Hayley Palmer as our Brand Ambassador for spray tan here at The Tanning Shop. Hayley has been a customer of ours for quite some time and when we chatted it was evident that Hayley was a great brand fit for us, we are super excited to be working with her and wanted to introduce you all to her so we sat down for a chat and here is what she had to say….
Tell us about your career and how you became a presenter on Sky TV?
I present on Sky & GB News – and it's the dream job! I love talking(!) and interviewing people as I love hearing people's stories.
How important is your appearance to you and to your career?
On camera the lights can pick up everything! So therefore, I believe it's all about the feel-good factor – when you feel good, it really shows! 
What make you feel confident when you are on the TV or attending events? How does a spray tan help with that confidence?
When I've had a spray tan, I automatically feel great! When I'm wearing a dress/skirt on TV I want my legs to look tanned – so popping in the spray booth makes a huge difference for me!
When do you consider a spray tan?
I love to have a spray tan before my shows, especially if I'm attending a Premiere or Special Event. Photographers can catch you at any angle, so the tan gives you the inner confidence and the glow.
Why did you want to become a Brand Ambassador for The Tanning Shop? 
For me, I love that you can walk in to the Tanning Shop feeling a bit flat, but walk out feeling better about yourself. The fact that you can walk in without an appointment and have a quick & efficient machine give you an even gorgeous tan in MINUTES is just fabulous.
What top tips would you give your followers about getting the perfect Spray tan?
Exfoliate the day before
Before the tan put moisturiser on your elbows, knees and ankles.
Bring baggy clothes to put on afterwards.
Also make sure you download the app to find your nearest Tanning Shop!
We love that Hayley talked about how the spray tan made her feel and that it gave her that extra confidence when she was out working or socialising. We have lots of exciting work planned with Hayley so make sure to keep an eye out on our socials for Hayley and her fabulous tan!