Are you looking for a luxury tanning experience in Nottingham? Look no further, The Tanning Shop Nottingham can provide luxury yet a responsible tanning experience for you.
Tanning consultants are professionally trained to ensure responsible tanning of all customers. Consultants are able to create a personalised tanning plan determined by skin type and tanning preferences. The plan will include, what bed to use, session lengths and what lotions to use should you wish to use one.
Each tanning session you are provided with free disposable eye protection and free freshening wipes. You will be appointed a bed which has been professionally cleaned before your use and will also be cleaned after.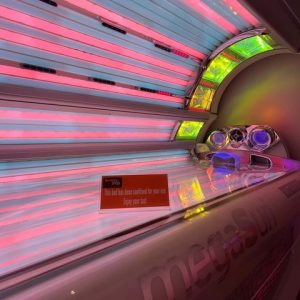 The store is equipped with multiple state-of-the-art tanning beds; lay down and stand up. Including a premium laydown Megasun 7000; a power house sunbed that is fitted with pureSun and SmartSunlight tubes to provide an optimal tan and skin care. The tanning bed has shoulder and facial tanners to provide that complete tan. You can even tailor your session by choosing a tanning setting determined by your skin type.
Fancy a stand-up bed? Nottingham has a Sunrise 488 tanning bed that is equipped with 48 dynamic lamps to ensure a consistent tanning performance throughout your entire tanning session.
You can pay as you go or you can purchase a package that lasts 12 months from purchase which allows you to use minutes at your own leisure. To find out prices visit the store page here.
Did you know we also have a store at Nottingham Beechdale where you can also use your tanning packages or minutes there too?
Where else would you find a tanning experience like ours?