Have you ever had a luxury UV tanning experience before? Here is your chance to try it out at Nottingham Beechdale Tanning Shop.
The store is kitted out with state-of-the-art tanning stand up and lay down tanning beds and tanning consultants can provide each customer with a tailored tanning plan.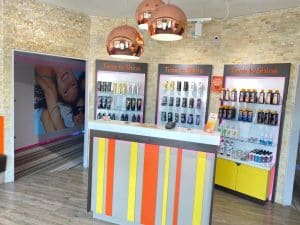 Let's see what luxury equipment Nottingham Beechdale has to offer you –
Ergoline Lightvision the premium bed of the 3 models in the store. This lay down bed provides intensive tanning with red light technology that will take your tan to a new level. You have the option between 3 tanning settings that can be chosen determined by your skin type. Tanning consultants in-store can recommend which setting to use to ensure responsible tanning. Features include Surround Cooling Plus, Cinematic Sound System & Bluetooth. This bed is guaranteed to give you the ultimate glow.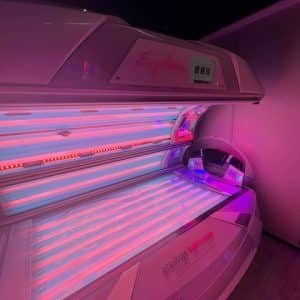 The next luxury lay down bed is the Hapro Vegaz bed is fitted with premium blue and red lamps combining intense tanning with skincare benefits. Features include shoulder tanners to help give you a complete tan alongside Bluetooth and climate control to ensure you get your complete tan comfortably.
Finally, the stand-up Hapro V8, this bed has ambient flowlight and smart touch control to adjust ventilation of the bed to ensure you have the most relaxing tanning session.
Tanning consultants in-store are professionally trained to assist with every aspect of your tanning journey. They are able to advise what tanning beds to use, session lengths, how often you should tan and lotions to use determined by your skin type to ensure you are tanning responsibly. Any tanning related questions you may have, consultants are more than happy to answer, always!
Thinking of registering at The Tanning Shop Beechdale? There's no better time than now! New customers get their first tan for FREE if you register before 06 August. Customers must redeem their FREE TAN within 14 days of registration.
Happy Tanning!