Here at the Tanning Shop, we like to offer a responsible and luxury tanning experience.
We have state-of-the-art tanning technology that will get you that summer glow everyone is after!
Tanning Consultants in-store are professionally trained to ensure responsible tanning and advise personal tanning plans for your tanning journey. Each tanning plan is tailored to each customer to ensure quality results.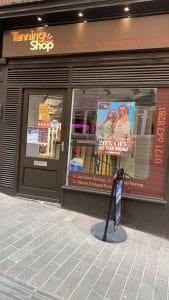 Personalised tanning plans combined with the luxurious beds is a recipe for that perfect glow.
Birmingham Tanning Shop offer both stand up and lay down tanning. The power-house of the Megasun 7000 is equipped with a combination of smart Sunlight and pureSun tubes to provide optimal tan and skincare. The tanning bed has facial and shoulder tanners to ensure a complete even tan. This bed even has the option of 3 tanning intensities to choose from determined by your skin type; Basic, Mediterranean and Caribbean. Choose your tan with the Megasun.
If you fancy a stand-up tanning session, you can use the Hapro V6, this standing up tanning booth has ambient FlowLight with a smart touch control, the bed has Bluetooth speakers so you can enjoy your own music!
What luxury tanning bed do you fancy?
Register before 18th July to receive your first tan for FREE
Happy Tanning