Spray tanning sessions are half price on Monday's, so why not indulge yourself with a bit of (almost) instant colour!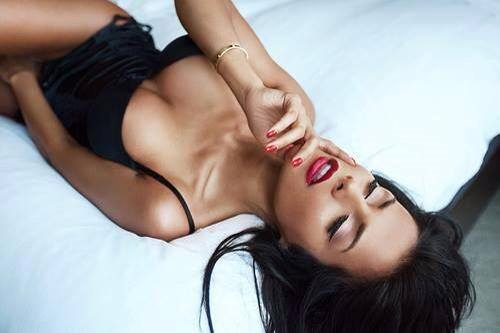 The Tanning Shop team absolutely adore spray tanning, not least because it is a great way to get a gorgeous colour very quickly, but we also get to pamper ourselves in preparation which is always a treat!
Spray tan has come a long way and we really like how quickly the new generation of colours develop!
No more standing in a chilly salon while we get our glam on! Now it is a fine spray mist that is dried by gentle heat within an automated booth. The voice guidance of most booths makes the whole proceess so much easier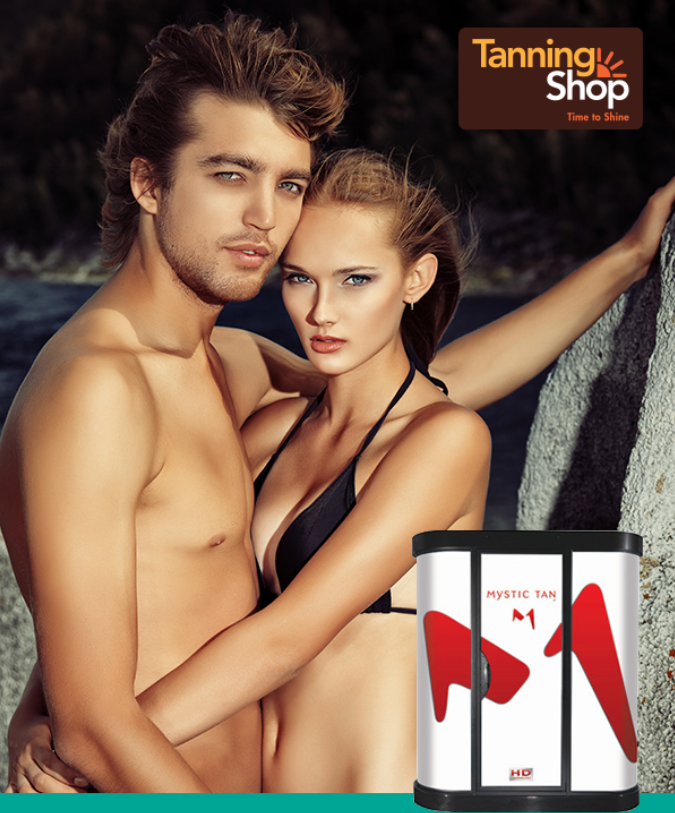 On top of this, there are a variety of shades. Maybe one day we prefer a golden glow and another we may want a darker, Mediterraenean tone.
Spray Tanning is not just a great option for parties and events, but dance competitions, body-building competitions, even a special date with a loved one!
So why does a spray tan make a Monday magnificent? Becuase we offer half-price off-peak spray tanning at qualifying stores on a Monday! (On a Sunday and Tuesday too!)
Spray Tanning is a fantastic way to get an instant colour and here at The Tanning Shop, we love to give our clients a great deal. Add these two things together and you get the new "Off-Peak Spray Tan" available at selected stores Sunday, Monday and Tuesday!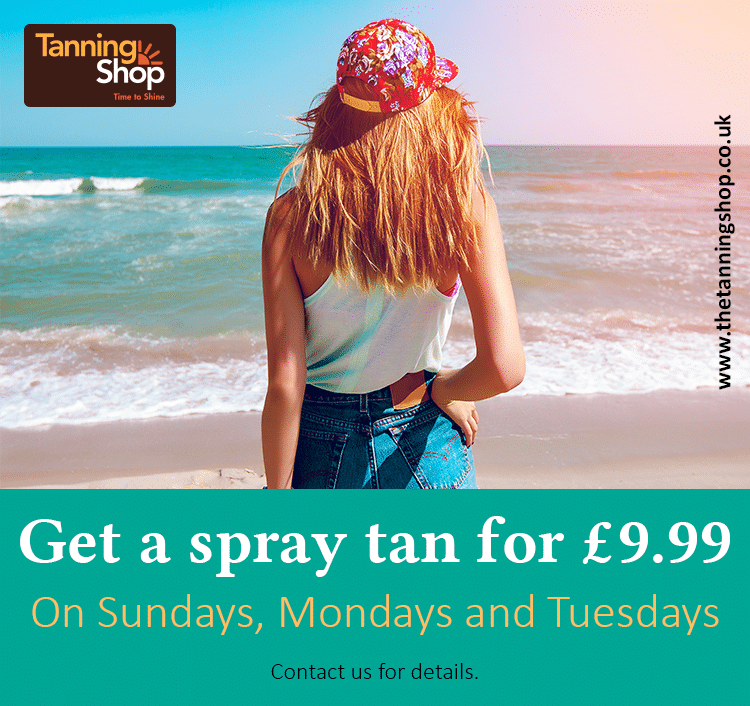 Not sure if your local store offers a spray tan service? Enter your postcode into our salon locator, select "spray tan" from the drop-down list, press enter and your nearest store will be listed below the map
The Tanning Shop team are always happy to assist in answering any queries regarding colour choice, preparation and aftercare. There are also optional extras at selected stores, such as aroma, bronze boost and extenders to really enhance the spray tanning experience.
Your local store team are always happy to advise on the choice available as well as assisting with a colour choice to suit your skin type and preferred shade result.  Spray Tanning Guidance leaflets are available on request in-store or by contacting customer services
The best way to achieve great results from Spray tanning (and UV tanning) is to ensure skin is fully exfoliated and moisturised 24 hours before your session.
Spray Tanning Do's and Don'ts
DO Exfoliate and moisturise thoroughly 24 hours before your session and have your daily shower 12-24 hours before your session
DO Wear loose, dark clothing that will not rub on your skin. The cosmetic bronzers in a spray tan can stain light fabrics so it is a good idea to make sure you have dark towels and bedding ready at home for the evening after your session
DO Ask for a spray tan preparation and aftercare leaflet from in-store or online
DO Ask questions, staff are trained to assist you. You are welcome to familiarise yourself with the booth prior to your session
DO Apply barrier cream liberally to your hands, elbows, knees and feet, paying particular attention to fingernails and toenail. (seriously, slather it on!) These area's really soak up spray tan and can look darker than the rest of your body
DO Have a practice session a few weeks before if your spray tan is for a big event. Have your actual session 24-48 hours prior to your event to allow for development
DO listen carefully to the automated voice in the booth
DO wait for the appropriate length of time before showering. When rinsing off the spray tan, use water only as a shower gel may remove the colour
DON'T Moisturise on the day of your session, this will act as a barrier to the spray tan. This also applies to; cosmetics, body spray, perfume, hair conditioner, oil-based or moisturising shower gels and deodorant. Avoid these during development time.
DON'T Wear tight-fitting clothing on the day of your session. Pressure on a spray tan while it is developing can cause flaws
DON'T Get wet or indulge in physical exercise during development time, this includes touching water
DON'T  shower before development time is up, and don't use a flannel, sponge, loofah, soap, shampoo or shower gel as this may scrub off your colour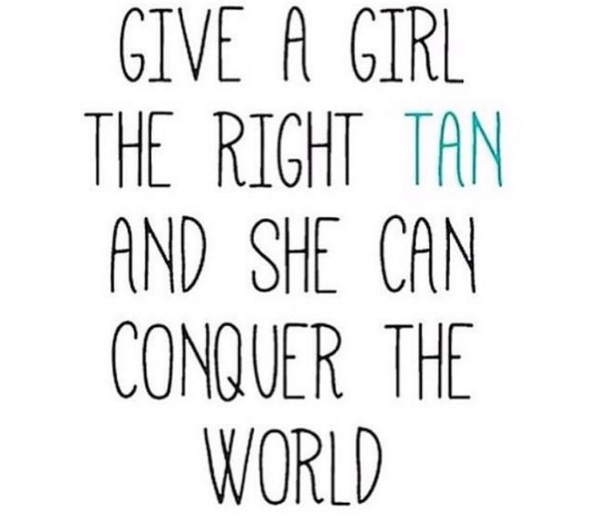 Use a spray tan session as an excuse to pamper yourself. Thoroughly exfoliate in a nice, long bath 24-48 hours before your session and when you get out, moisturise head to toe.
(Optional: Have nice, relaxing cup of tea, coffee, or if preferred, a smashing glass of wine while you allow the moisturiser to do its job).
Following this preparation process will create the ideal, smooth canvas for the spray to adhere to. Allow time after your session to relax and allow your spray to develop.
After your session, when your development time has elapsed and  you have showered off the spray tan, you will see a lot of the cosmetic bronzer come off in the shower. Don't panic! The bronzer is not the staining ingredient, instead it shows where the areas on to which the spray tan has adhered to the skin. The spray tan that has penetrated the skin will continue to develop over 12 hours and after this time has elapsed, you will see your end result.
Don't forget, you can always call your local store or e-mail us at customer services should you have any queries or require assistance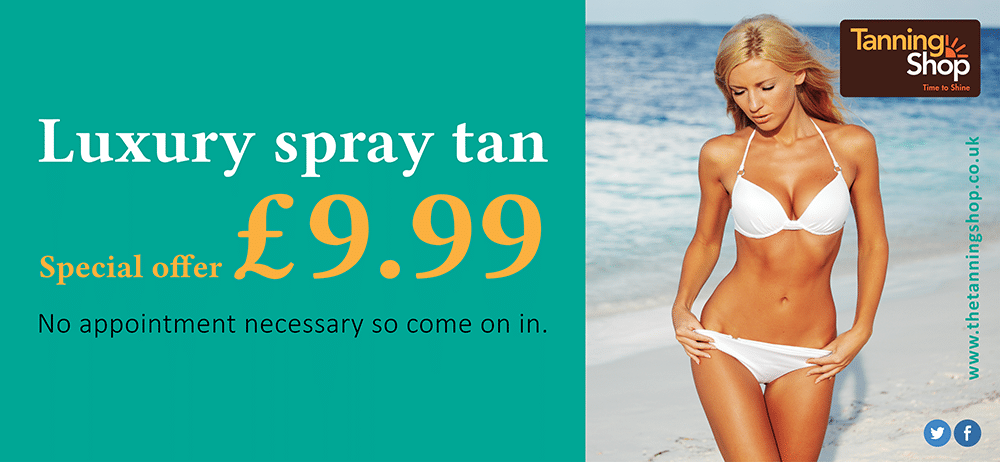 Terms and Conditions Apply. Under 16's using the spray tanning service must be accompanied by a parent or guardian. Under-18's are not permitted to enter rooms containing UV equipment.