Are you looking for a luxury tanning experience? Kingston Tanning Shop can provide you with an experience you will want to keep coming back for with the state-of-the-art equipment and professional tanning consultants.
Kingston is home to top of the range tanning beds; Megasun700 is a powerhouse sunbed that is fitted with SmartSunlight tubes to provide an optimal tan! The bed is also fitted with shoulder and facial tanners to provide a complete tan with an option to turn these off. Tailor your tanning session with 3 tanning settings; Basic, Mediterranean & Caribbean. 
Another laydown tanning bed the store has to offer is the Megasun 6900; An elegant and ergonomic design is combined with patented "Intellisun" technology and a simple user interface to provide an absolutely invigorating and rejuvenating tanning experience.  The bed is fitted with specialist P2 tubes which work to stimulate Vitamin D. The bed is also fitted with high end LED's that boost and activate collagen to renew skin's elasticity.
The store has a stand-up tanning bed that offers an all-over tan with 48 body lamps, 3 face tanners and 2 shoulder tanners, this is a favourite at The Tanning Shop. The bed is designed with comfort in mind while experience your luxury tan!
Tanning consultants are professionally trained to ensure responsible tanning. They can recommend each individual customer; equipment to use, session lengths and when to increase session lengths determined by skin type and tanning preferences.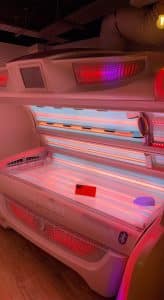 Have you seen the range of lotions Kingston has to offer? A selection of Accelerators, Bronzers & Intensifiers. These lotions come in sachets and bottles; tanning consultants can advise the best lotion for your skin type to ensure optimum tanning results. It's important to remember, using a lotion can enhance tanning results by 60%.
A luxury experience from entering to leaving Kingston Tanning Shop
What are you waiting for?
Happy Tanning!