Luxury Tanning Shop opening at Crystal Peaks Shopping Park in Sheffield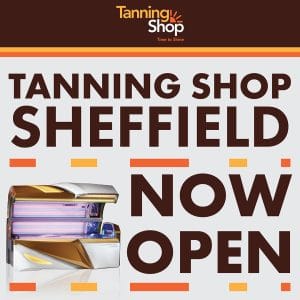 The UKs largest Tanning chain announces a new location NOW OPEN in Sheffield in 18th February 2022 and will join over 90 stores nationwide.
Sheffield Crystal Peaks Tanning Shop has top of the range tanning beds in-store including state-of-the-art Hapro Vegaz. Sheffield Crystal Peaks Tanning Shop also has 0.3 compliant lamp technology – The 0.3 process is a slower, more gentle way to tan. The tanning result is deeper, darker and lasts. 0.3 compliant lamps emit a lower amount of UV per square metre than standard lamps and this dramatically reduces the risk of over-exposure.
Crystal Peaks Shopping Park has over 100 outlets including retail and leisure facilities. The Tanning Shop will be located at the former Toys R Us – Unit H4, Crystal Peaks Shopping Centre, Sheffield, S20 7NQ with FREE parking for a maximum of 4 hours in the RED car park.  The Tanning Shop will be open 7 days a week
Providing an insight into the business and expansion in 2022, Adam Mooney, the founder of The Feel Good Group said: "We are excited about the opening In Sheffield as it marks the continuation of investment in The business during 2022. This investment will lead to an additional 10 stores opening by June of this year with the creation 60 new positions opened in the business. Our objective is certainly to have well above 100 company stores by the end of the calendar year 2022"
The Tanning Shop has an easy and FREE registration process, you can register via our website – https://thetanningshop.co.uk/sheffield/
The Tanning Shop, 30 years of professional tanning across the UK & Ireland since 1991. The UK's largest tanning chain offers state-of-the-art UV tanning solutions. Tanning consultants are trained to advise on the best UV or non-UV tanning solutions for individual needs and are always at hand to help, build and maintain your tan. In-store expert tanning consultants can create your own personal tanning plan to suit your skin type & tanning requirements.