Maximise Your Tanning Potential with the UK's Leading Tanning Provider!
A Little About Us.
The Tanning Shop is the UK's largest established tanning chain. With over 25 years of experience and over 80 thriving stores nationwide, we are able to provide our clients with amazing prices and package deals.
The Tanning Shop has changed the face of the tanning industry; ensuring stores are equipped with fantastic beds, fully trained tanning consultants, a wide range of quality products and modern stores.
Clients can expect a professional tanning environment with innovative tanning equipment and fantastic value package deals
What Will Change?
Being a part of a national chain does not mean that your local store will become faceless and forgotten. Every store is valued as much as each and every one of our clients and we are planning great changes to enhance your tanning experience and help you built a beautiful tan;
Exceptional Value: The Tanning Shop believes in providing our clients with great value pricing and this is reflected most in our package deals!
New Equipment: Three fantastic new iBeds will be installed to provide that extra comfort and tanning excellence!
Experience unrivalled comfort and a complete, even tan with the iBed's exclusive iSwing technology. The rotation of the 250 watt powerspots ensure that all areas of the face and neck are tanned equally while heat is distributed evenly.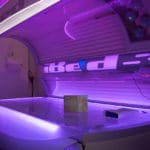 The tanning session is further enhanced with client controlled iSound as the specialist iGlass diffuses UV rays to create a bed of light and encourage an even, all-over tan.
The Customer Experience: The Tanning Shop is absolutely dedicated to providing the highest levels of customer service and as such, we provide full training to all of our tanning consultants.
Lamp Guarantee: The Tanning Shop is passionate about enabling clients to achieve a gorgeous tan and our lamps are essential. This is why we promise to change lamps before they reach 50% of the manufacturers predicted lamp life to prevent loss of tanning potential!
There are now two stores to enjoy in Lincoln and minutes can be used in both on equipment of the same value as the package purchased.
Our aim is to provide an enjoyable tanning experience and help you to build and keep a gorgeous golden tan all year round!
We hope you enjoy your visit to The Tanning Shop Lincoln South and welcome your feedback. Contact us via www.thetanningshop.co.uk and we will be happy to assist you
*Terms and Conditions Apply. Session length is dependant on skin type and tanning history