Begin within! Improve your tan and skin condition from the inside out.
We are delighted to announce that we have launched our very own tanning and beauty drink, the Tanning Shot, see what we did there! Our zesty, Juicy Orange flavoured drink is designed to not only boost tanning results but improve skin condition over time! Our signature recipe is packed with essential vitamins and tan-enhancing ingredients and is suitable for vegans
Can a tanning & beauty drink improve your tanning results, I hear you ask? The simple answer is yes! Our signature recipe contains Beta Carotene, a natural colour booster, which works alongside your tanning sessions to enhance your natural colour to give you deeper and darker results!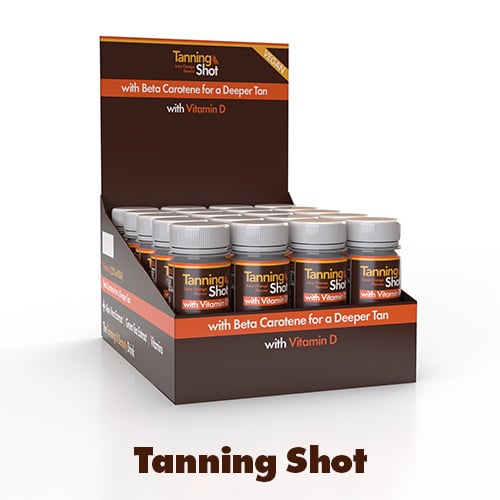 Now let's take a look at all the other good stuff packed inside every bottle!
Each bottle of Tanning Shot is packed with 25% of your daily Vitamin D requirements, commonly known as the sunshine vitamin! Vitamin D plays a vital role in skin protection and rejuvenation and can improve the body's ability to reduce inflammation and fight infection.
You will also find a rich blend of skin-boosting vitamins inside including; Vitamins A, B3, B5, B12, C and E, which have unrivalled skin repair and renewal properties and can help to protect the skin's natural barrier, giving you a smooth and radiant complexion. This luxury blend of vitamins also aids in the skin's natural ability to retain hydration and can work to soothe skin irritation and conditions. Plus for an extra boost of hydration and skin soothing, we have also added Aloe Vera Extract and Green Tea Extract to our recipe too!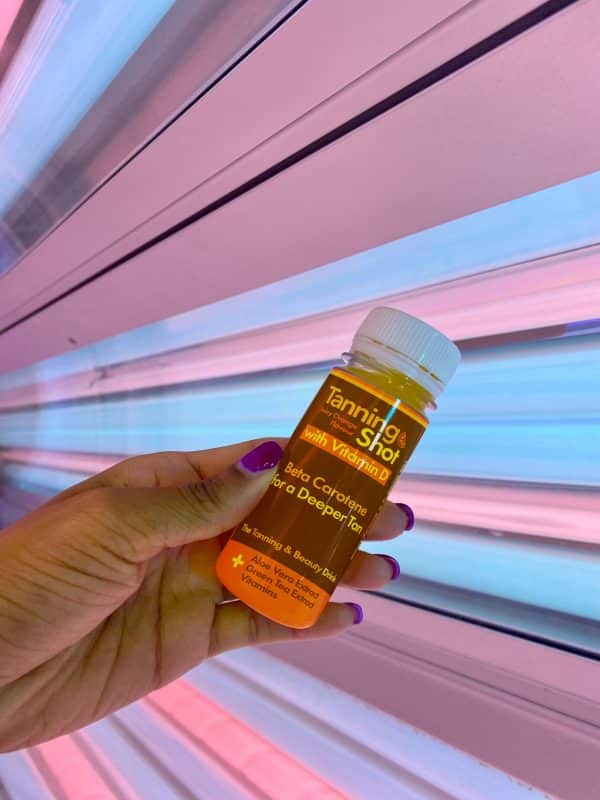 We know it may all sound too good to be true, but trust us it's not! Our signature blend has been carefully crafted behind the scenes over the last 6 months to ensure that we pack in all the best ingredients into a tasty shot-sized drink. After all, they do say the best things come in small packages! Grab a tanning shot on your next visit and put our delicious shots to the test!
Buy in-store for ONLY £2.00