Here at The Tanning Shop,  we know everyone has a lot of questions around COVID, how we have changed the way we work, what we have done to keep you and our staff safe and a lot more.
We have recently sent some surveys to a range of our customers and did receive some questions of which we would love to answer to help our customers understand our guidelines and feel safer on returning to their tanning shop
To see full COVID Guidelines click here >
In this blog we answer questions on:
Biometrics
Social Distancing
Masks
Tanning Film
Cleaning
Bookings
Minutes
Opening Hours & Pricing
Offers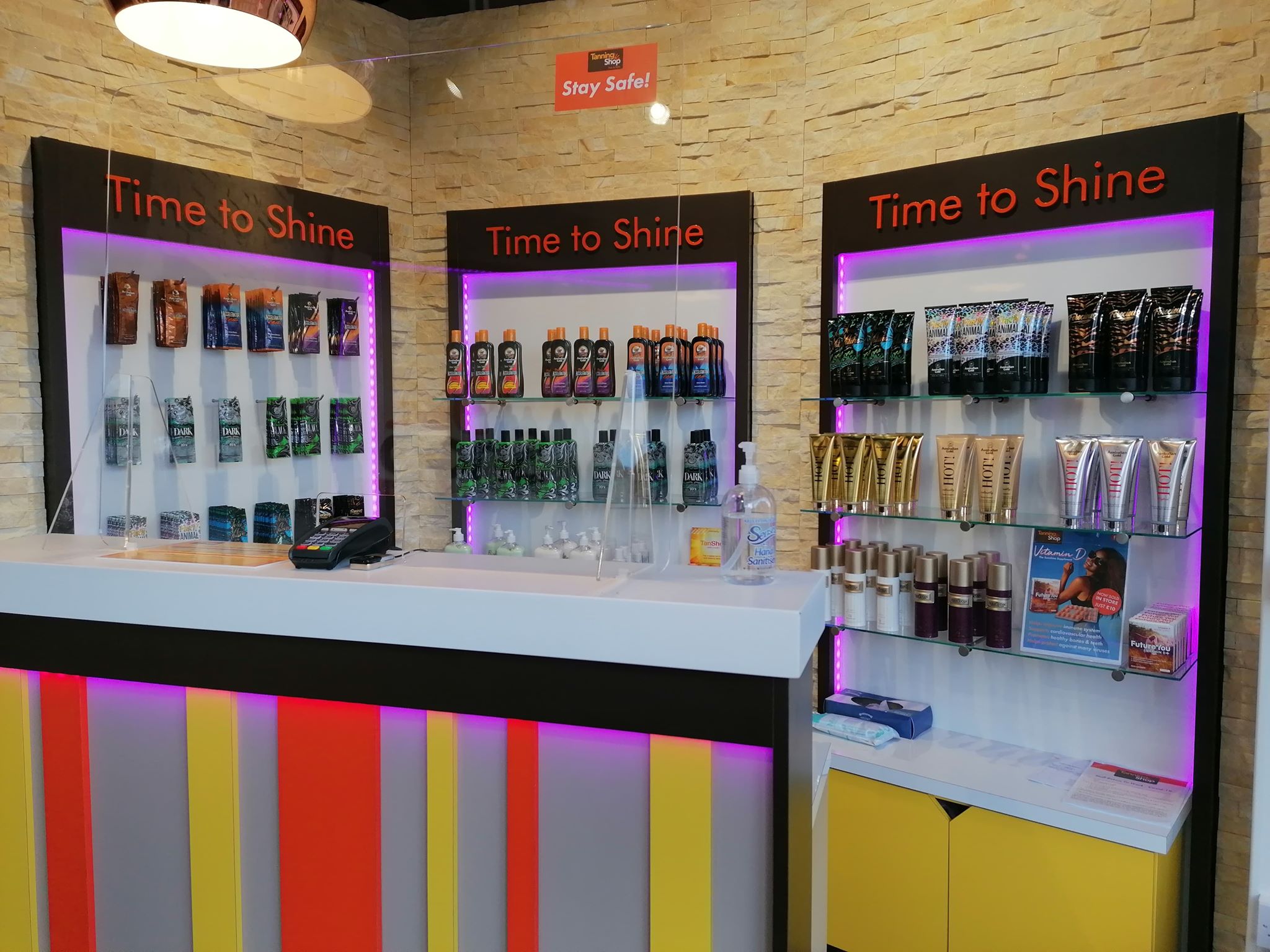 Are you still using biometrics?
I am concerned about using my finger print when coming into your stores.
A lot of people touch these and I am a little worried with the virus.
The Tanning Shop Response – Biometrics
We are still using the finger print scanners in store as this helps us locate your account quickly and we know it is you that is using your minutes and not someone just using your name!
We understand there are concerns around this however the fingerprint scanner is cleaned with hospital grade sanitiser after each person has used it. There is also hand sanitiser available in reception free for you to use before and after using biometrics.
I am worried about using lay downs
I am a bit worried about going back on a lay down bed, knowing someone has been on it before you, what if they have COVID?
the tanning shop response – lay down beds
If you are concerned about using lay down beds we have a few things available to help ease your worries.
Cleaning – We sanitise our beds before and after each customer even before COVID! We use hospital grade sanitiser on all of our beds to ensure they are clean, disinfected and ready for the next customer.
Tanning Film – We now have a tanning film available in all company owned stores which is simply placed over the bed and avoids you making any contact with the bed surface. It will not effect your tan in any way it is there to give you piece of mind! We are the only tanning salon to offer this, ensuring no physical contact is needed during your tanning session
Do I have to wear a mask?
I know in some shops you have to wear a mask now but do we have to in tanning shops?
The Tanning shop response – masks
From 8th August it is compulsory to wear a mask in tanning salons.
Don't worry, you can take these off once you enter your room!
When do you open and how much?
What time do you open your stores and how much is a sunbed?
Can I use my minutes in other stores?
The tanning shop response – Opening Times & Pricing
At the moment please refer to the website for opening hours as we are changing them regularly so this is the best way to check your stores opening times. You can find your local store by using the Store Locator – all web pages are up to date with the latest opening hours and pricing.
Pricing does vary but you can use your minutes in any other store with the same pricing or lower!
Are you following social distancing?
Do you have anything in place like other shops where customers have to follow certain guidelines when in store?
The Tanning Shop Response – Social Distancing
Yes! We are following government guidelines with social distancing.
We have stickers on the floors & seating areas to help in the reception area and are asking customers to wait outside if reception is full.
Each store will have a poster outside letting you know how many customers are allowed in reception at one time.
what happens to my minutes?
I had minutes before lock down, will I lose these? 
The tanning shop response – minutes
If you purchased minutes before lockdown or had minutes due to expire over lockdown these have been extended for the length of closure. You can find your expiry date by going to 'my account' and logging in.
If you are having issues logging in please contact us with your full name, DOB and email and we will get back to you as soon as we can.
Do I have to book?
Do I have to book an appointment?
How do I do this?
The tanning shop response – booking
Booking is preferred at this time. You can book via our app or online in the my account section. You can also call the store and book in. Phone numbers can be found on the store pages.
If you have not logged in online before please use the forgot password link and you will be sent a temporary password. If this brings up an error your email address may not be on our system. If you send us your full name, DOB and email we will add this for you so you can log in.
Is there any offers on?
Have you got any offers on? I need to top up my minutes!
The tanning shop response – Offers
We are running offers again!
Refer a friend runs all year round! £5 for every friend you refer and there is no limit on how much you can redeem!
If you want to be the first to know about upcoming offers sign up to our emailing list and add us to your address book so we don't fall into spam!
Follow us on social media to see offers, enter competitions and find out the latest news in our stores.