Are you looking for that perfect glow? Look no further, The Tanning Shop Guildford offers UV and Spray tanning services including a sensor controlled tanning bed!
Professionally trained tanning consultants can give you your own personal tanning plan to ensure you get the best results from your tanning journey. Each tanning plan is determined by the customers skin type and tanning preferences, this ensures the tanning shops core philosophy, responsible tanning!
Guildford Tanning Shop has 3 different models of tanning beds in-store. Let's see which one you'd like to get your glow from!
Let's start with the Sun Angel; sensor-controlled bed, the only one in Guilford. This bed offers a 20-minute fixed session and takes two readings of your skin so the lamps emit the correct amount of UVA/B for your skin type.
Megasun 7900, is a lay down tanning bed, this bed is equipped with the option of 3 tanning settings to choose from determined by your skin type. The bed is fitted with P2 pigment tubes which can stimulate the production of vitamin D3 and great ventilation.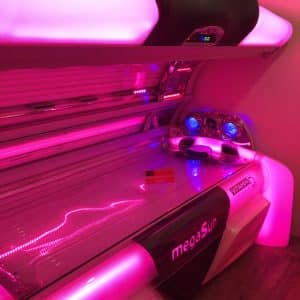 Megasun Space is a stand-up tanning bed that is spacious and powerful bed. Features of this bed include, Bluetooth audio systems, volume control and music vibrations – feel the sound.
Fancy a sunless tan?
Enjoy a spray tan, Guildford have an automated spray tanning booth; Versaspa Pro. Providing you with a tan in under 10 minutes, this tan will develop over a 6-8 period! Choose from 3 shades, Light, Medium & Dark!
Pop to The Tanning Shop Guildford for all your tanning needs!
Happy Tanning!