Our gorgeous new Belgravia store now has a fantastic Versa Spa Pro spray tan booth!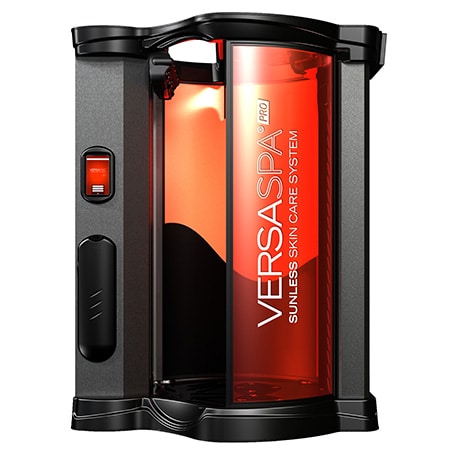 This stunning piece of equipment is more than just a spray tan.
The innovative design hydrates the skin and smooths fine lines as your colour builds; all in one delightful session!
Designed to build a natural, vibrant, long-lasting colour, the VersaSpa automated spray tanning booth  combines multiple groundbreaking innovations to enhance the client experience.
Includes a wide open interior design, an EZ-2Breathe™ purification system, Comfort-Dry™ technology, and an intelliSENSE™ control system.
Bronze, smooth and hydrate your skin in just one fully customisable session. Choose your shade, choose your treatment and enjoy your spray tan!
Preparation is absolutely key to an outstanding spray tan result and guidance is available online and in-store, all you have to do is ask one of our fabulous tanning consultants!

Don't forget, we also have excellent UV equipment available;
5 KBL 6900: The most intelligent sunbed of its kind. An elegant and ergonomic design is combined with patented "Intellisun" technology and a simple user interface to provide an absolutely invigorating and rejuvenating tanning experience.
3 X Hapro V8: Built for efficiency yet packed with features and tremendous functionality. 48 XL tubes allow for a spacious feeling while the grab rail and user control panel are conveniently situated. While there is a staggering selection of standard features, the optional extra's will make an already outstanding bed, an exceptional bed.
Take your spray or UV tanning experience to the next level and visit or call  today!
Visit: 30 Buckingham Palace Road, Victoria, London SW1W 0RE
Or Call: 0207 828 6757

Terms and Conditions Apply. UV Equipment not available to under-18's. Packages purchased at either store can be used at either store on equipment of the same value